Local brews are making the news.
Whether you're in Asheville, N.C., or Los Angeles, there's a delicious scene to drink in. Local breweries are popping up everywhere, from chic metropolitan areas such as Atlanta and Toronto to the quaint, down-home towns such as Finger Lakes, N.Y.
Another spot has emerged as a hot spot for hot new brew: Myrtle Beach.
We took a look at what's going on here in Myrtle Beach to make suggestions for you when you visit. There are plenty of places to raise a glass – but at which ones will you want to fill that glass right back up again? Some of these joints have been around a while but might be new to the brew game. Others are new ventures. Where do you go for the best new brew?
Why do people love local beer?
It's a fairly recent development. As consumers become more attentive to where ingredients in their food come from, they'll want to know what's in their beer, too. Big splashy billboards for national brands sometimes aren't as influential as a friend or web review about a new flavor at a pub just down the street.
Best places to try local brews
Gordon Biersch Brewery Restaurant
The Myrtle Beach location of Gordon Biersch serves up a lineup of food (crispy Brussells sprouts, gorgonzola ribeye, and potstickers, for example) as incredible as its selection of craft beers. You'll want to try unforgettable cocktails, too, such as the bourbon peach smash.
Biersch's Hefeweizen is heavenly, and it's stout is stupendous. Experience German beers brewed in-house, with expert staff that knows its stuff – and takes pride in the quality. Trust us – it sure won't feel like a chain brewery when you're there.
Try this: Golden Export. This pilsner malt is the lightest, most refreshing beer in the building.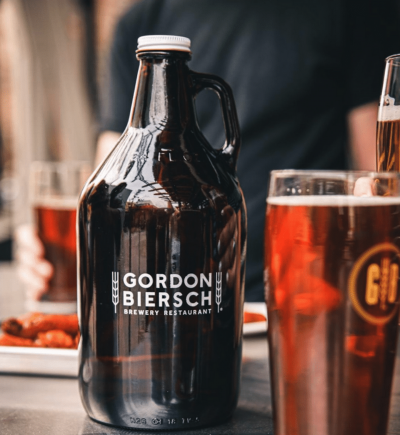 New South Brewing
You're in for a quality roster at New South Brewing, a place locals make their regular stop.
The popular Java the Nut comes from nearby Rivertown Roasters in Conway, and you can sample some of the offerings before committing to a pint. Imperials from New South are heavy hitters, and the atmosphere? One visitor likened it to a "really cool uncle's basement!"
It's a true original, complete with a staff that loves to talk beer as much as you like to drink it. A yummy Dirty Myrtle DIPA combines falconers flight, mosaic, and simcoe hops at 8.9% ABV.
Try this: White Ale. The Grand Strand's most popular, with wheat, coriander, and orange peel.
Red Hare Brewery – 34º North Experiment Station
For fun times in a cool setting, head to Shallotte for Red Hare Brewery. You can even sample the goods before you place your order. Bring home some brew with you, too. The SPF 50/50 grapefruit for a light blend of house-brewed sparkling grapefruit soda and IPA. Delicious beer, fast, friendly service. What more could you want?
It's family- and pet-friendly, and food-friendly if you bring in your own grub – so pretty laid-back atmosphere. There's craft soda for the kids (or grownups, too.)
Try this: City Dry Hop Lager. Dry-hopped with Citra, crisp, light, and only 100 calories.
Strong Waters Craft Cocktails and Kitchen
Take a step back to prohibition times at Strong Waters.
The food is also astounding, making for a perfect break for late-night brew and chow. It's the fare you love, with a Strong Waters twist, such as pork belly tacos and wagyu sliders.
Strong Waters serves craft beer on draught in a rotating schedule, with a definite lean toward southern flavors. This is the sort of establishment that you'll want to visit at least once a season. Check out the Espresso Porter by Palmetto, Greenman ESB, and Radler Grapefruit.
Try this: Coast Dead Arm – a West Coast pale ale that tastes like it belongs in Carolina.
Independent Republic Brewing Company
One of the newest and waterfront – check out fresh brewed beers, great food and live entertainment in their waterfront beer garden.
Check out Myrtle Beach's budding brewery community
Wow, the flavors. When you visit Myrtle Beach, you have so many choices. With a wealth of influences in the bar community here, you're bound to have an array of tasty, one-of-a-kind beer to try – all with some pretty cool names and cans. Especially for vacationers who find themselves here several times a year, there's always something new to try.
Stay at The Strand in Myrtle Beach
What a fantastic place to call home base when you do your own pub crawl in Myrtle Beach. The Strand staff will want to ensure you have nothing but great memories to take home with you. It's a peaceful place with a lovely ocean view, but not far from the nightlife fun Myrtle Beach has to offer. Book your stay at The Strand today.