Some people like to wing it when they visit Myrtle Beach.
That doesn't have to mean going out for dinner on a Saturday night without a reservation. The Grand Strand is home to several cool bird species, too. Birding is a thing here, and the area has state parks and guided tours to get you close enough to see them.
Worldwide, you can find 10,000 species in all habitats. With distinctive antics, colors, plumage, patterns, and song, birds are a natural draw for our eyes and ears. Here are 10 of the coolest to look out for in Myrtle Beach, and places to find them.
10 Cool Birds Native To Myrtle Beach
Black plumage with an iridescent purple head and glossy highlights make it unique. Find them in fields, parks, and prairies.
Known for diving into the waves to catch fish, the Brown Pelican is large and stocky. Find them flying above the waves, single file.
A large diver bird, the common loon has a black head and checkered black-and-white mantle. They eat flounder, rockfish, and sea trout. Find them along the shore in fall, winter, and spring.
4. Double-Crested Cormorant
It's an all-black water bird that develops a crest of black and white feathers during mating season. It often swims with only head and neck visible, and you can find them along the coast.
The largest native North American heron has slaty feathers and red-brown thighs. Find them around ponds, lakes, and rivers.
These tall, long-legged wading birds have a distinctive S-curved neck. Their bills are dagger-like to support its diet of fish and other ocean creatures. Find them along lake and marsh edges.
An expert diver and swimmer, the horned grebe chases fish underwater. They have a black head with brown earlike tufts and deep scarlet eyes. Find them in coastal bays in winter.
The species most common to the Grand Strand: Hering, Laughing, and Ring-Billed. They're noisy and easy to spot, with spectacular flight patterns. Find them everywhere in Myrtle Beach.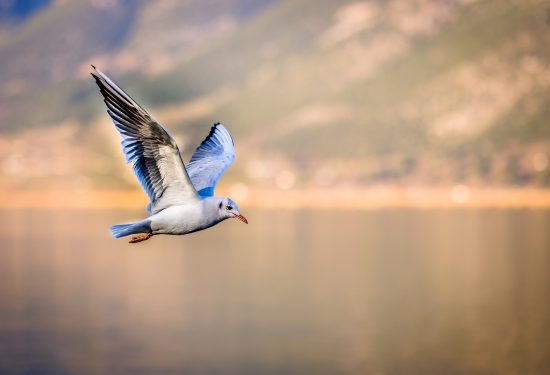 These small marsh birds are white with brilliant reddish-link bills and legs. They forage in groups with their heads down in search of crustaceans and insects. Find them in freshwater marshes
A large shorebird of the sandpiper family, willet adults have gray legs and a long, straight bill. Its body is dark gray with lighter feathers underneath. Find them foraging along the shore.
Huntington Beach State Park
Take the Sandpiper Pond Nature Trail for views of egrets and herons. Tent camp in Huntington Beach State Park close to the beach and trails. It's a beautiful, well-maintained park.
Bird watching is popular in Myrtle Beach State Park, and you can pick up a bird list in the nature center. Spring and fall migration periods are the best times to visit.
Sea Marsh Tour, Glass Bottom Kayak Tours
These excursions are perfect for families. Glass Bottom Kayak Tours features knowledgeable guides and an array of options. They offer some for evening paddles out into the marsh.
Flock together at The Strand
You're going to love it at The Strand and it'll become a favorite destination for your Myrtle Beach vacations. You'll find comfy rooms, friendly staff, and a fun vibe at in-house establishments. Drop into the Market Restaurant or Strand Bar, right on site. Check out other amenities and plan your stay at The Strand today.